The vast majority of your banner ads views will come from our main website Bernews.com — which offers 24/7 news and is one of the most popular Bermudian websites — however your banner ad appears on all eight sites in our network, allowing your brand wide exposure on multiple websites, providing a very cost effective, easy to manage and comprehensive online marketing programme.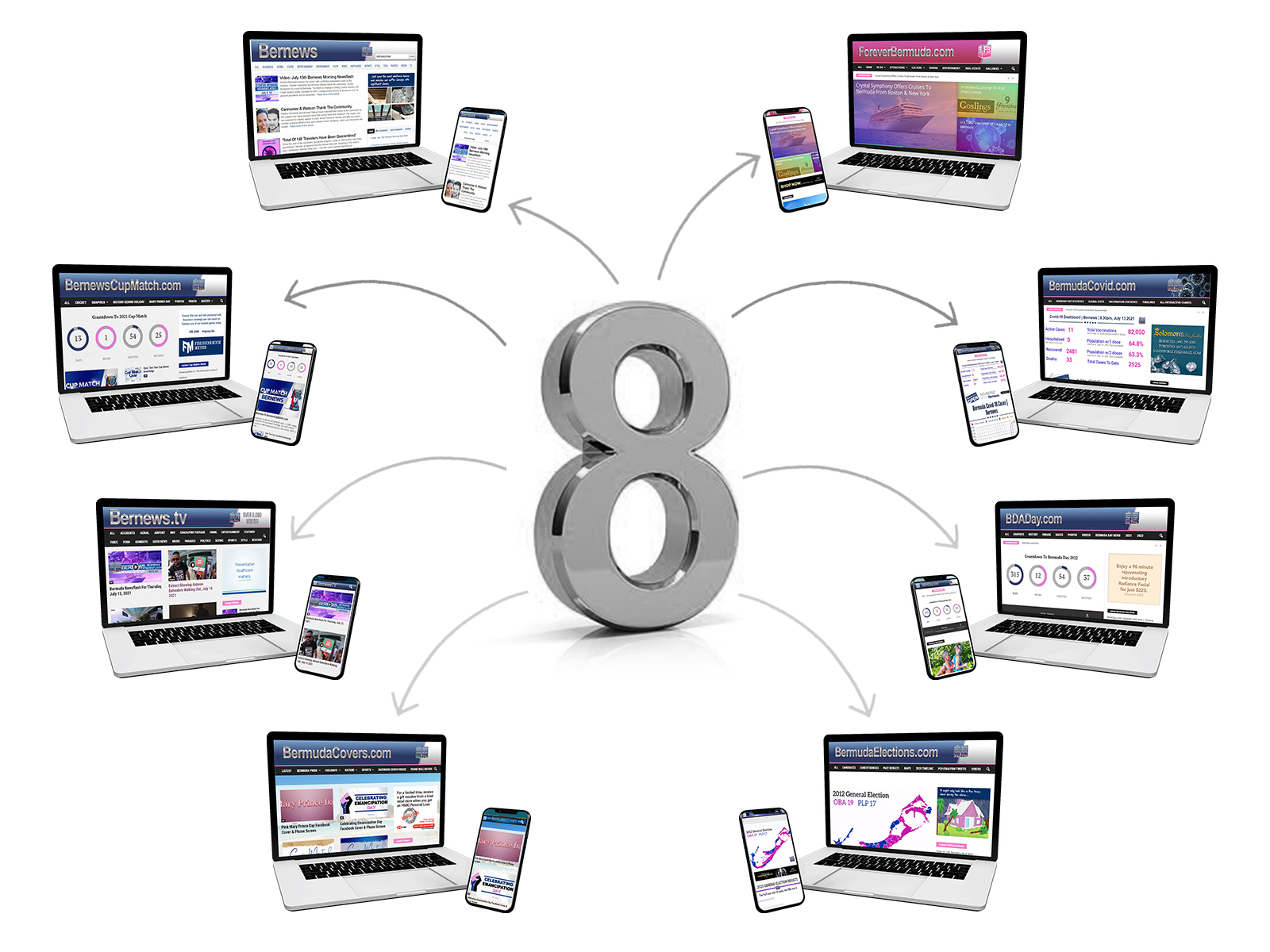 Bernews was launched by Patricia Burchall in 2010, becoming the first local media outlet to offer 24/7 news coverage of the island. Now the island's #1 digital media outlet, Bernews editorial style is data-based, focused on delivering the full story with multimedia, and the website receives millions of hits, providing a broad reach for your ad campaign.
Showcasing Bermudian excellence and our tourism aspects, ForeverBermuda has over 25,000 social media fans in its own right, and is updated regularly to show the best of the island. This is the sole website in our network which tends to attract the most website viewers from overseas.
The largest Bermudian video website, Bernews.TV features over 9,000 Bermuda videos and 360° virtual tours spanning more than a decade, all categorized in an easy to follow format. All advertisers are eligible to have their video ads placed on Bernews.TV free of charge, just send us the video file and we will take care of it!
With over 2,500 pages and a wealth of data, BermudaCovid.com is the most comprehensive website covering Bermuda's handling of the pandemic and is designed to be the definitive historical record of this unparalleled time in Bermuda history.
A data centric and useful resource, BermudaElections.com contains results, data and charts of Bermuda General Elections spanning the past few decades. The viewership is fairly low on a regular basis, however skyrockets during a General Election, boosting views on your ad banners.
Bermuda pride is the genesis behind this network site, which offers over 1,000 Bermudian-themed social media graphics and phone wallpapers for free download. It's fun, free and designed for the more social media savvy consumer.
A 250+ page collection of Cup Match footage and fun, as well as Mary Prince Day and Emancipation Day history for fans in Bermuda and around the world, BernewsCupMatch.com is the largest dedicated Cup Match site online. A 'seasonal' website, the traffic on this escalates considerably around the holiday, allowing your brand extra exposure next to coverage of the iconic holiday.
The largest website available dedicated to this holiday, BDADay.com provides comprehensive coverage of the Bermuda Day holiday, with photos, videos, live stream replays, history and more. Like the Cup Match website, BDADay is a 'seasonal' website, so in May your ad banners receive extra views in addition to the views on the main Bernews website and other network sites.